03 Sep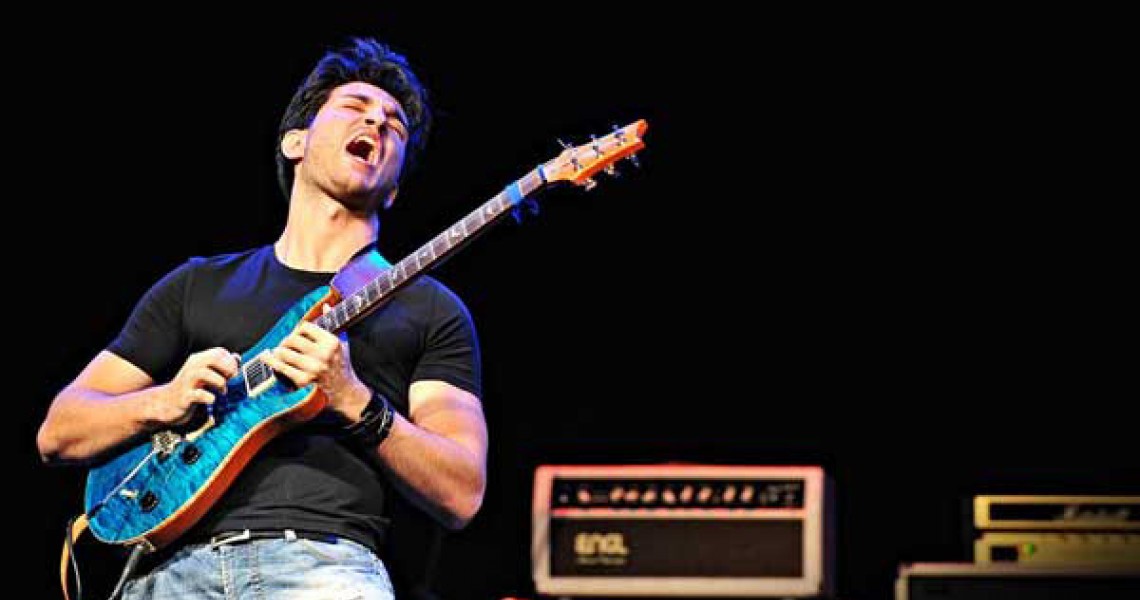 Ignazio di Salvo was born in Agrigento, Italy, on the 10th of December 1985.
At the age of 9 he began to study classical guitar at the Conservatory, getting a five year Diploma with Master Francesco Buzzurro. At the age of 16 he composed his first instrumental demo "Where do the toughts come from?" and was awarded the title of young talent and a promising rock guitar player on many music reviews (Top Demo on Metal Shock, Chitarre, Raw&Wild, Metal Hammer, Rockeggiando.it) and by important musicians. In 2003 he attended Siena Jazz Clinics.
In 2008 he graduated in Business Economics at Bocconi University of Milan ( Title of his dissertation: Development strategies for niche artistic product. The EGEA case and Italian Jazz). In the meantime he graduated at the Milan Music Academy ( "Corsi Civici di Jazz"). At the moment he is attending a postgraduate course.
His masters are Roberto Cecchetto ( guitar), Giovanni Monteforte (guitar), Marco Vaggi ( Jazz Combo ), Paolo Peruffo (theory), Gabriele Comeglio ( harmony, arranging, improvisation), Lucio Terzano. In 2009 he attended the Berklee College of Music seminars. He has been selected as best jazz guitarist by Giovanni Tommaso and he joined Beklee Umbria Jazz Award Band at Umbria Jazz Winter 2010.In 2010 he has been chosen as one of the finalist in the prestigious competition for jazz guitar player "Eddie Lang" in Monteroduni.
In the same year, he joined the competition "Ziua Chitarelor 3" in Bucharest and won the first prize which was assigned by a prestigious jury (Jennifer Batten, Andreas Oberg, Michael Lee Feerkins, Stu Hamm, Dave Martone, William Stravato, Damjan Pejcinosky and Fabrizio Dadò, Axemagazine).
He has been chosen as one of the 12 finalists in Guitar Idol 2011 among more than 1030 guitar players all over the world. He received a great response from both judges and public, and his song "A night of change" was considered as the best in the competition. He joined seminars held by Jennifer Batten, Steve Trovato, Richard Smith, Walter Donatiello, Dave Liebman, Guthrie Govan. Dave Martone, Michael Lee Feerkins, Andreas Oberg, Stu Hamm, Tomaso Lama, Umberto Fiorentino. Furthermore, he studied Jazz Guitar with Bebo Ferra, Umberto Fiorentino and Emanuele Basentini.
In 2011 he opened Reb Beach(Whitesnake, Winger) and Guthrie Govan concerts. He attended Nuoro Jazz seminars held by the famous Italian trumpet player Paolo Fresu and won the prestigious scholarship for the best students.
In 2013 he will open the Jazz Festivals in Nuoro and Berchidda (Sardinia). At the moment, he is attending the post-graduate Jazz course at the Italian Conservatory of Music "Vivaldi" .
His playing style has been transcribed by Jamtrackcentral.com, where he collaborates as an artist and composer. He studied with Alex Stornello and attained qualified teacher status at Modern Music Institute in Verona. He is currently the director of Modern Music Institute in Milan. At the moment, he is recording his first album "A gift to the World", wich will come out in 2013.