03 Sep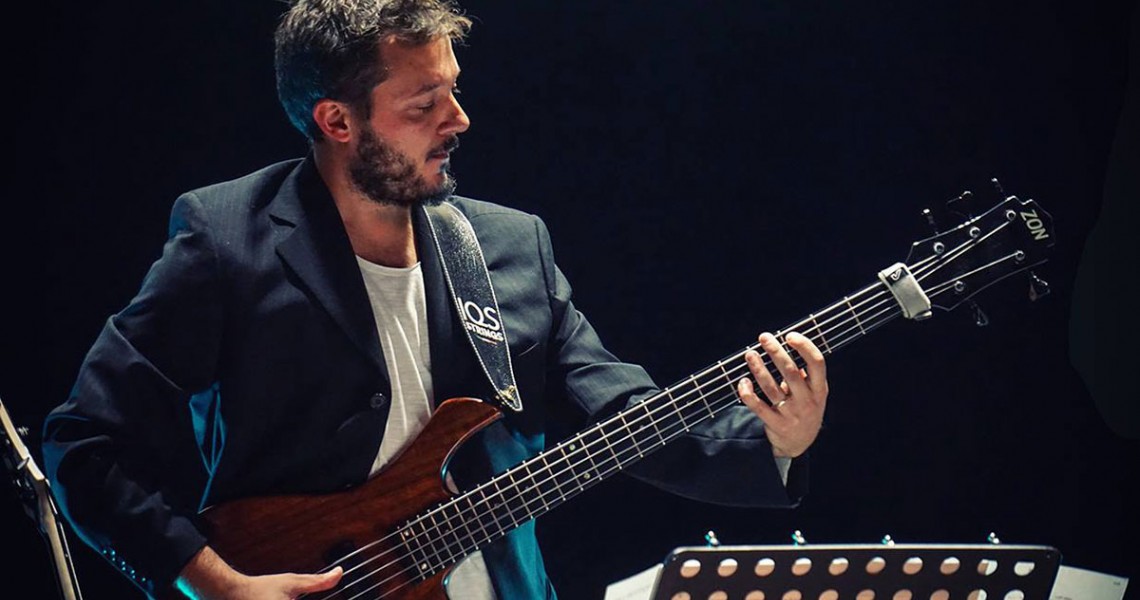 Born in Atri, Italy on November 18, 1981, Michelangelo began studying grand piano at the age of seven and, at fourteen, moved to electric bass. In 2003, he received his diploma in music, specializing in jazz bass, from the Accademia Musicale of Pescara under the instruction of Maestro Maurizio Rolli, he is graduated magna cum laude in Jazz Electric Bass at the Pescara Conservatory.
He participated in numerous courses for bass, stand-up bass and harmony with many musicians, including: Maurizio Rolli, Alfredo Impullitti, Ramberto Ciammarughi, Cameron Brown, Paolo Damiani, Michael Manring, Diana Torto, Gainluca Esposito, Garrison Fewell, Dario Deidda, Jimmyn Owens, Gerge Cables, Giulio Capiozzo, Alain Caron, Domneique di Piazza,, Gigi Cifarelli, Cuong Vu. He also participated in multiple Pescara Jazz Summer seminars and, twice consecutively, won the annual award for "New Productions" of Spoltore with Claudio Filippini, Piero Delle Monache, Pierluigi Esposito and then with C.Filippini, P. Delle Monache, Nicola Angelucci, Giorgio Distante. In 2004, Michelangelo participated in the prestigious "Pistoia Blues Festival" with the band Alex Whatanna & Tha Big Fat Balls. Then, in 2004 and also in 2008, with the Fabulous Wood at "Hills In Blues" in his hometown of Atri, plus "Melizzano In Blues (2008)", "Ameno Blues Festival (2009), "Porretta Soul Festival" (2009), "Subiaco Blues Festival" (2009), Suoni Mediterranei jazz festival (2009), Atri Music Camp 2012/2013, Lugocontemporanea 2013, Pescara Jazz 2013, Umbria Jazz Winter 2013, Umbria Jazz 2014 and many others. He has been teaching bass since 2004 at the Spoltore Music Academy and, since 2006 at the Cultural Association "Otis Redding" of Atri and from2013 at the "Accademia Musicale Pescarese"as teacher of electric bass and harmony. He played bass for the recording of the album, "Have You Seen the Rose", by Paolo Giordano, of which, bass guru Michael Manring, Frank Gambale, Michael Cusson also participated. In September, 2008 he became part of the Momo Family, who will be playing a the "Atlantis Music Convention", in Atlanta, GA, USA.
He also continues his research in the experimentation of electric bass and the applied use of computers. In 2009 he found the band Nemo Project, and he write all the composition of the first album of this band. On Decembert 1th 2010 is on sale the first cd of Nemo Project and in summer of 2014 is come out the new album named SILENT with featuring Cuong Vu and Ramberto Ciammarughi.
In 2013 is on sale "Chiaroscuro" a cd with the 3db Trio (dodicilune 2013) where he is author of four songs. He play with some great musicians like Cuong Vu, Ramberto Ciammarughi, Gigi Cifarelli, Claudio FIlippini, Israel Varela, Raffaele Casarano, Giorgio Distante, Paolo Giordano, and many others. Is the artistic director of the Atri Music Camp International Festival, which every year organizes concerts and workshops of new music.
He is endorser of Datum Bass Guitars and now he have a Datum signature bass, and he is endorser of IQS strings Was voted among the best 10 bassists for the Italian magazine Jazzit in 2012 and 2013.