03 Sep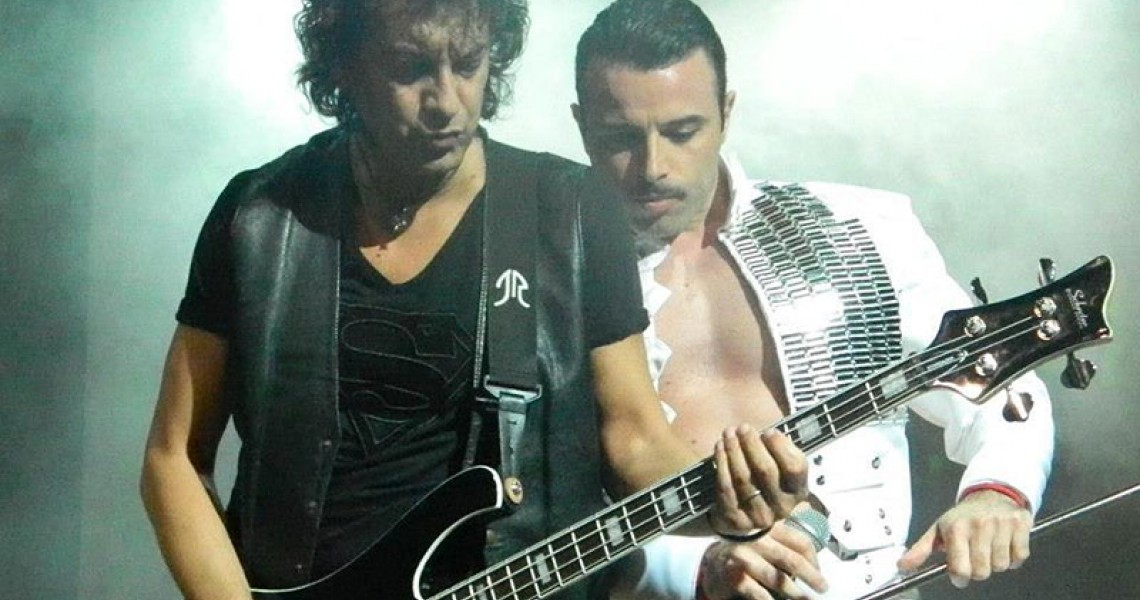 Born in Milan on March 25, 1965.
Even as a child begins to show an uncontrollable passion for music and entertainment in general.Composer from an early age, he founded his first band at age 14. With the Sharks won the "Viva I giovani" contest, that leads them to play at the Budokan in Tokyo ('87). Participate in 1989 at the Sanremo Festival with the song "Tentazioni", supervised by Enrico Ruggeri and Vasco Rossi, who shall sign the text. At the end of 1990 became the bass player and vocalist in the band of Enrico Ruggeri.
Collaborator in the studio, performing three albums: "Il falco e il gabbiano," "Peter Pan," "La giostra della memoria", as well as the two CD of Luigi Schiavone, "La spina nel fianco" and "Animale ".
In 1994 he joined the Clandestino, recording the album"Cuore, stomaco e cervello", with dates in Italy and also accompanying Ligabue in his live shows for about a year.
In 1995 born Sinergia, a rock band created by Pino Scotto, with whom he recorded the CD "Progetto Sinergia",plays in its promotional tour Italian, and as a composer of the song "Predatori della notte", from the album.From 1996 to '99 he worked as a demonstrator with the Generalmusic. Does not miss her dowry as a composer that led him to write for Enrico Ruggeri the song "Il prestigiatore", included in the album "Domani è un altro giorno" ('97).
In 2001 is on Italian and European tour of Marco Masini, as guitarist and keyboard player In early 2002 he was called by Marco Falagiani as a collaborator both live and in the studio, for Anna Oxa.
In fact, in April is on tour of 35 concerts with the popoular singer, in which Fabrizio played mainly bass but also guitar and keyboards, and of course singing. Since March 2005 it has resumed collaboration with Marco Masini, as guitarist and vocalist, in the "Il giardino delle api tour 2005," both in Italy and in Europe, and as bass player and vocalist in the "Il giardino delle api tour 2066″ , and recorded some songs in the reissue of his first album "Ci vorrebbe il mare", released in October 2006.
In parallel with the various tours, from 2000 to 2004, he had his own band, the Merqury Band, with whom he has brought around Italy and not just a show – a tribute to one of the greatest rock bands now become legend: the Queen In November 2005, Jonny Malavasi of Jam for Live, needs to have in his well-known agency, a spectacular tribute to the Queen of high level, and turns to Fabrizio to entrust him with the artistic production of this new project.
His passion for the "queen" was not at all sleepy, indeed ….. and, therefore, eagerly accepts this interesting proposal.
Born so the 'Queemania, where Fabrizio is bass player/ vocalist, programmer and artistic director.
In January 2003, he recorded the song "Di questo amore", contained in the new album of Anna Oxa, titled "Ho un sogno", and in May start the " Ho un sogno Tour 2003′, 45 dates between theaters and open air, that concluded in October with a concert in Atlantic City, in the' Arena of the TaJ Mahal Casino.
In 2004 he started the collaboration with Simone, a young rock singer-songwriter soul, and that is' pointed at the Sanremo Festival that year, produced by Enrico Rovelli under the supervision of Vasco Rossi, who wished him to open his 12 concerts in Italian stadiums from June 5 to July 9. In May, 2004 shared with the new "In viaggio tour" by Anna Oxa, about 30 more dates in Italy, and a concert at Casino Rama in Toronto. Thanks also to the remarkable ability 'artistic elements that are part of it, offering an engaging and studied in detail, with video projections and several costume changes of the front man.
A show that takes them on tour, with an average of more than 100 concerts a year, both in Italy and abroad (England, Holland, Spain, Austria, Hungary, Germany,and Switzerland), in clubs, festivals and theaters, meeting everywhere a huge success and participation from the audience. With the beginning of 2007, after playing with it for 5 years (1990-1994) was resumed collaboration with Enrico Ruggeri, both live and in the studio as bass player –keyboard player and vocalist, in a tour that, starting in April, will run in Italy until the end of summer. In the months just after the end of the tour, recorded the Christmas CD titled "Il regalo di Natale," and in December, start the Tv and radio promotion . At the same time ,in December, start the "European Tour Unplugged" by Marco Masini , playing bass and guitars, with Massimiliano Agati , percussion and guitar. An acoustic tour in clubs in Switzerland, Germany and Belgium. From February to April 2008, is in the recital theatrical Marco Masini " Il brutto anatroccolo " .
In May 2008 he released "Rock Show," the new CD by Enrico Ruggeri, Fabrizi , in addition to having played and sung , it appears, once again , as an author , with the song " Attimi " . At the same time , start the 2008 tour.
In January 2009 he released " All in" new triple CD by E. Ruggeri, in which " Attimi " is a duet with Canadian singer Ima , and in April started the tour. In February 2010 he released " La ruota " the new CD by Enrico Ruggeri, where Fabrizio performing , as well as bass player andvocalist , even as co / author , writing along with Enrico the song " Padri e figli " . Following its theatrical and summer tour.
In 2010 Fabrizio has been the "vocal coach" of vocal groups, alongside Enrico Ruggeri, in the 4th edition of X Factor Italy, and he's the composer of the song performed by Kymera "Atlantide."
In June 2011, start the summer tour "Che giorno sarà," and in May 2012, the "Multimedia tour," always with Enrico Ruggeri. Since the academic year 2012/2013 he's teacher at the "Music Academy", the academy of music and singing of the Training Centre MAS (Music Arts & Show) in Milan, one of the most important training centers for the spectacle of Europe and vice of Enrico Ruggeri, artistic director of the academy. In May 2013 they released "Frankenstein," the new concept album by Enrico Ruggeri, followed by promotion on TV, in clubs and outdoor tours.
Also in summer debut the show "Sarebbe bello …" with Ale e Franz, a blend of music and words, made of interactions between Ruggeri amazing with his band and the extraordinary duo.
In June 2013 Fabrizio is called to play again with Ligabue and Clandestino at the 15th Meeting of his fan club, in Bologna, where they played the entire album "Sopravvissuti e sopravviventi", in the occasion of its twentieth anniversary, a important event that brought together over 12,000 people. www.fabriziopalermo.it